Amazons



Real Name

Unknown

First Appearance

Fight Comics #10 (1940)

Original Publisher

Fiction House

Created by

Hugh Bartlett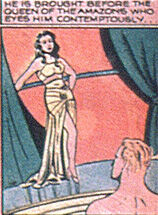 Origin
In the Brazilian jungles, Oran of the Jungle discovered a group of Amazons with plans of conquest armed with advanced technology such as rocket ships, ray guns, and televisors. Their army has a massive modern city hidden inside a mountain that featured buildings such as a palace and coliseum.
The Amazons are ruled by a queen who dealt with outsiders, such as Oran, by placing them into gladiatorial matches with her pet a giant reptile resembling a dinosaur or dragon. A mutual attraction between Oran and the Amazonian Queen was seemingly developing, but never the less the queen threw the handsome newcomer to the beast lest he interfere with her plans.
After being informed by Oran, The Brazilian army destroyed and apprehended the Amazonian forces swiftly using their tanks.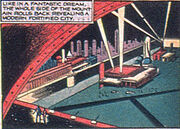 Public Domain Appearances
See Also
Community content is available under
CC-BY-SA
unless otherwise noted.