Anna Atom

Image is © Paul Hoppe Illustration and used with permission.

Real Name

Anna Katerina Romanova

First Appearance

Public Domain Super Heroes (June 7, 2010)

Original Publisher

Public Domain Super Heroes

Created by

Michael P. aka Yzz
Origin
Anna is the daughter of Max Atom. She manifested her powers at about age 14 and, along with the rest of the Power Society children, became a member of the Power Kids. As she and her friends grew older, she frequently clashed with her father, who insisted that secrecy and intimidation were essential to their mission while she argued that such tactics caused fear in the general public, planting the image of sinister, untraceable organization doing whatever it wanted to whomever it wanted.
Eventually, her father's decision to exclude Kid Astro and Popsicle from The Power Society and his appointment of two neophytes to take their places brought matters to a head.
She is currently the co-chair of The International Justice and Liberty Association, alongside Red Lightning, a former member of The Power Society.
Powers
Like her father, Anna possess super-strength, invulnerability, super-leaping, and the ability to run at approximately 100 miles per hour.
Appearances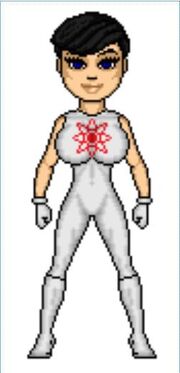 Notes
Anna Atom is an "Open-Source Character" and may be used by anyone. The only rule about using her is that your work must have this notation:
"Earth-K, Anna Atom, and Max Atom were created by Michael P. and are available for use by anyone, with only one condition: This paragraph must be included in any publication involving Earth-K, Anna Atom, and Max Atom in order that others may use these properties as they wish."
While her adventures, as well as her various artistic interpretations, are under copyright to their respective creators, the character and idea are free for anyone and everyone to use.