The Black Knight



Real Name

Sir Robert, Earl of Denhope

First Appearance

The Black Knight #1 (1953)

Original Publisher

Toby/Minoan

Created by

Ernest Schroeder
Golden Age Origin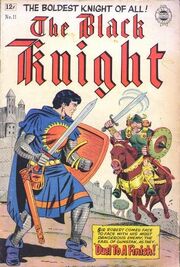 Sir Robert, the Black Knight was a rich man before he left for the crusades, but when he returned to England, he found himself a pauper, pawning the souvenirs he had collected during his adventures. He eventually became a mercenary knight, fighting in feudal battles.
The Black Knight was an extraordinary sword fighter and horse rider. He wore distinctive black armor, which was well known to all. Robert believed his intelligence and his faith in his lord would make him more successful than listening to the the prophecies of druids and observing superstitions.
Golden Age Appearances
The Black Knight #1
Black Knight (1963 series) #11 (I.W. Publishing)
Community content is available under
CC-BY-SA
unless otherwise noted.