The Black Owl



Real Name

Doug Danville

First Appearance

Prize Comics #1 (Mar 1940)

Original Publisher

Prize Comics

Created by

Robert Turner & Pete Riss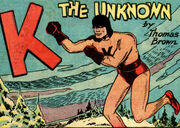 Origin
Doug Danville was a wealthy New York playboy who decided to fight crime. He put on a costume and began his career as K the Unknown. He later changed his costume and adopted the moniker of the Black Owl. Sometime after he gave up the K the Unknown identity, Doug got involved with Terry Dane, a private investigator. True to tradition, she admired the Black Owl and belittled Doug Danville for being useless. He continued fighting criminals in this guise until he enlisted in the Army and handed down his costume to Walt Walters, the father of Yank and Doodle.
His enemies included Chief Skullface, the Fox, Frankenstein, Funnibone, the Green Mummy, the Tiger Lady, the Laughing Head and the Terrible Midge, among others.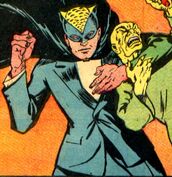 Public Domain Appearances
Prize Comics #1 (as K the Unknown)
Prize Comics #2-33 (as the Black Owl)
Notes
The Black Owl feature was briefly worked on by the superstar team of Joe Simon and Jack Kirby, with Kirby designing the Black Owl costume in Prize Comics #7.
See Also