Black Widow



Real Name

Linda Masters

First Appearance

Cat-Man Comics #1 (May 1941)

Original Publisher

Holyoke

Created by

Al Ulmer
Origin
Linda Masters' husband is murdered by criminals, so she puts on a mask and fights crime as the Black Widow. She could sense danger and carried an automatic pistol. She was also very agile, a skilled fighter, willing to kill and a better detective than the local police investigators. She had a good relationship with Police Detective Blake, who was willing to help her on cases.
Public Domain Appearances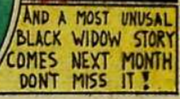 Notes
A second appearance was promised but, never saw print.
See Also