Little Boy Blue



Real Name

Unknown

First Appearance

Unknown

Original Publisher

English Nursery Rhyme

Created by

Unknown
Origin
"Little Boy Blue" is a popular English language nursery rhyme.
The most common version of the rhyme is:
Little Boy Blue,
Come blow your horn,
The sheep's in the meadow,
The cow's in the corn;
Where is that boy
Who looks after the sheep?
Under the haystack
Fast asleep.
Will you wake him?
Oh no, not I,
For if I do
He will surely cry.
Origins and Meanings
It may be alluded to in Shakespeare's King Lear (III, vi) when Edgar, masquerading as Mad Tom, says:
Sleepest or wakest thou, jolly shepheard?
Thy sheepe be in the corne;
And for one blast of thy minikin mouth
Thy sheepe shall take no harme.
It has been argued that Little Boy Blue was intended to represent Cardinal Wolsey, who was the son of an Ipswich butcher, who may have acted as a hayward to his father's livestock, but there is no corroborative evidence to support this assertion.
Public Domain Comic Appearances
Fawcett's Funny Animals #13
Four Color #41,59,68,90,103,140,253
Jingle Jangle Comics #17
Public Domain Comic Appearances Inspired by Little Boy Blue
Christmas Carnival (1952 series) #nn
Christmas Carnival (1955 series) #2
Tales of the Mysterious Traveler #10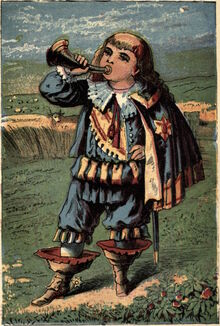 See Also