Butterfly



Real Name

Marian Michaels

First Appearance

Hell-Rider #1 (August 1971)

Original Publisher

Skywald

Created by

Gary Friedrich, Ross Andru, & Mike Esposito (possibly John Celardo and Rich Buckler)
Origin
Outfitted with a jetpack for flying and a costume laden with incredibly bright strobe lights to blind her enemies, Marian Michaels is a Las Vegas cabaret singer by night and the crime-fighting Butterfly by even later night.
In her first appearance, she investigates the Claw, a group of cat costume-wearing heroin dealers who are using their profits to build a fascist army out in the desert.
In her second, she was seen battling the Brothers of the Crimson Cross, a fictitious white supremacist group that the issue refers to as "a gathering of sick, distorted minds such as this country has not witnessed since the Ku Klux Klan's rule of terror held the South in its deadly grip."
She often worked with Hell-Rider and Julie Storm.
Public Domain Appearances
Notes
Skywald did not include a proper copyright notice on its issues of Hell-Rider (it did not consist of the word "copyright"/the symbol for copyright followed by the year of publication and the name of the copyright holders) and thus, because of copyright law at the time, became public domain upon release.
Butterfly was the first Black superheroine in comics.
The Hell-Rider issues were mature-audience magazines not covered by comic books' Comics Code Authority.
Art credits for the first issue's backups are disputed, with sources suggesting either John Celardo and Rich Buckler as the "Butterfly" penciler. Buckler is credited for the second issue's appearance of the character.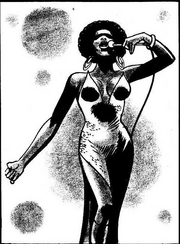 See Also