C+



Real Names

The Harlems

First Appearance

May 31, 2013

Original Publisher

PDSH website

Created by

Carter-Ethan Rankin
Origin
High school sweethearts, Julius Harlem and Blossom Jones, were married immediately after graduation. Soon afterwards, they welcomed twins, Mandy and Aaron, into their home. To the world, they were the perfect, quiet, suburban family...
Their was nothing "quiet" about the Harlem's, however, for they were secretly the super-powered crime-fighting family: C+!
Tangerine Dream! Orange Blossom! The Mandarin Twins!
By day, dad is a detective, mom is a caregiver, and kids are in school. Once the clock strikes 3PM, kids are home and doing homework. 5 o'clock, Julius is home. 5:30, dinner is served. 6PM: C+ is dressed and ready for action! Evil doers: BEWARE!
10PM, bedtime. Kids' got school in the morning.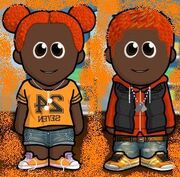 Powers and Abilities
After collectively speaking their secret magic word (which no one knows what it is, only that it rhymes with orange), they are each granted super human abilities:
Tangerine Dream: Julius knows exactly when and where a crime can take place... for he sees it in advance when he sleeps!
Orange Blossom: Blossom can nurse anyone back to health... If they deserve it!
The Mandarin Twins: Mandy and Aaron can boost your spirits when you are feeling anxious. Their elevating properties are well known and highly regarded for assisting with nervous tension, stress and depression!
Notes
C+ are "Open-Source Characters" and were created specifically for use by anyone. Feel free to use it any way you wish; author citations are not necessary.
In 2013, Carter-Ethan Rankin chose to create 30 new characters that he would voluntarily release into the public domain. The 4 members of C+ were #'s 27, 28, 29, and 30, respectively.
See Also
Tangerine Dream (re-named as "Pad Thaitan") was used by Australian take away food & home delivery business, Menulog, in their advertising super team, The Takeaway Titans.
Community content is available under
CC-BY-SA
unless otherwise noted.