Captain Milksop



Real Name

Mortimer X. Mortimer

First Appearance

Red Band Comics #1 (November 1944)

Original Publisher

Rural

Created by

Bernard Baily
Origin
Mortimer X. Mortimer was a clumsy clerk who ran into some trouble with some criminals. He wished he had superpowers like the characters in Red Band Comics. His wish was heard because from an overturned issue of Red Band comics came miniature versions of its heroes: Bogey Man, the Sorcerer and his Apprentice and even the villainous Satanas.
They characters revealed that their copyright holders granted them the ability to give Mortimer one power each. They give him luck from the Apprentice, detection from Bogey Man, magic from the Sorcerer, and almost evil by Satanas until the Apprentice sent him away. By saying "Red Band Comics" Mortimer was struck by lightning and transformed into a costumed hero (just like Captain Marvel saying Shazam.)
His new powers allowed him to defeat the criminals and collect some reward money, but his clumsiness ends up leaving him in debt.
Public Domain Appearances
Atomic Bomb Comics #1
Red Band Comics #1-2
Zoom Comics #[nn]
Merry Comics #[nn] (cover only)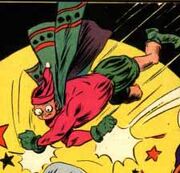 See Also
Community content is available under
CC-BY-SA
unless otherwise noted.