Captain Wizard



Real Name

Joseph Preston

First Appearance

Red Band Comics #3 (1945)

Original Publisher

Enwil/ Rural/ Gerona/ Croydon

Created by

Unknown
Golden Age Origin
When war veteran Joseph Preston is unjustly accused of murder, he hides from the police in a wax museum. He is discovered by a magician named Theophrastus Bombastus Paracelsus. The magician instantly sees that the vet is innocent, so he gives him a magical cloak and tells him to "be off, do good." The cloak gives whoever wears it invulnerability and allows them to fly. He also posessed super strength and did not require sleep. From then on, Joesph Preston was Captain Wizard. Later, he is assisted by Baldy Bean. He can also change from his costume to civilian clothes by shouting "Abracadabra".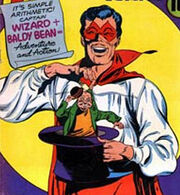 Golden Age Appearances
Captain Wizard Comics #1
Red Band Comics #3-4
Meteor Comics #1
See Also
Community content is available under
CC-BY-SA
unless otherwise noted.