Christopher Robin Milne



Real Name

Christopher Robin Milne

Born

21 August 1920

Died

20 April 1996
Origin
Christopher Robin Milne was born on 21 August 1920. He was the son of Alan Alexander Milne and his wife, Dorothy. His father, a famous author, used to base his poems and books on a ficitional version of Christopher Robin and his Alpha Farnell Teddy bear called Edward Bear (whom Milne changed the name of to Winnie after a chance encounter with a real bear named Winnie in a Winnipeg zoo).
In 1974, he wrote and published three autobiographical books where he talked about his childhood problems because of the Pooh books.
Milne gave the original stuffed animals (Edward Bear, Tigger, Piglet, Eeyore and Kanga) to the editor of the books who donated them to the New York City Public Library.
Christopher Robin Milne died on 20 April 1996.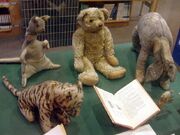 Notes
The Winnie the Pooh stories have all been acquired by the Walt Disney Corporation and are thus, NOT in the public domain. However, because Christopher Robin Milne was a real person, he can be used as a character by anyone (provided real-life aspects are used rather than fictitious ones from the stories). Because he also owned real toys who were named Tigger, Piglet, Eeyore, Kanga, Roo, and Edward Bear, they could, in theory, be used as his toys (I would, however, probably refrain from having them "come alive" and it is important to note that all of the names, except "Edward Bear" are trademarked).
See Also
Community content is available under
CC-BY-SA
unless otherwise noted.