Commando Ranger



Real Name

Unknown

First Appearance

Rangers Comics #13 (Oct. 1943)

Original Publisher

Fiction House

Created by

Reuben Moreira and Jock Lawrence
Origin
Commando Ranger was many things before the war. He was a scientist-explorer who fought the plague in the Congo, an Olympic boxer able to k.o. a heavy weight champion, a mysterious ace pilot, a sole survivor of a ship sunk by pirates in China seas, and climber of Mount Everest. While in Tibet, he studied for two years under the Great Lama in Tibet, mastering "the secret of mind's dominion over matter." However after hearing the cries of the enslaved, Commando Ranger was sent by the lamas back into the world.
So with the agreement both of FDR and Churchill, he put on a mask and costume to fight the Nazis and free the countries occupied by Germany as the masked Commando Ranger. His calling card was the sign of a winged dagger, his signature weapon. During his fight to free those oppressed by the Nazis, he met his girlfriend, who was the leader of the underground known as La Bastille.
In his second appearance forward, he wears a more traditional military uniform with emblems of the dagger over his heart and army helmet.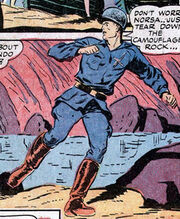 Public Domain Appearances
Fight Comics #28 (promo ad)
Rangers Comics #13-20
Rangers #66-69
See Also
Community content is available under
CC-BY-SA
unless otherwise noted.