"The World's Mightiest Mite!"
Doll Man



Real Name

Darrel Dane

First Appearance

Feature Comics #27 (Dec. 1939)

Original Publisher

Quality

Created by

Will Eisner (as "William Erwin Maxwell")
Origin
Darrel Dane was a chemist who discovered a liquid that could shrink a human being to only six inches tall but still leave him or her with the strength of a full-grown human. Later, his girlfriend, Martha Roberts, the daughter of Darrel's colleague Dr. Roberts, was threatened by gangsters. Darrel took the formula and used his height to defeat the criminals.
He is assisted by his sidekick, Martha Roberts. For transportation, he uses a bald eagle, a Dollplane (model airplane), and Elmo, a German shepherd.
Powers and Abilities
His power is the ability to shrink to six inches tall but, still have the strength of a full-grown man. He can return to his normal size whenever he wants.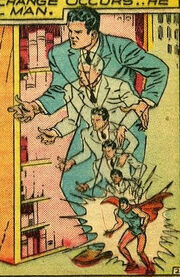 Public Domain Appearances
Feature Comics #27-139
Doll Man Quarterly #1-16
Doll Man #17-32
Doll Man # 11, 15, 17 (Reprints: I. W. Publishing; Super Comics, 1963)
See Also
Community content is available under
CC-BY-SA
unless otherwise noted.