Dorian Gray



Real Name

Dorian Gray

First Appearance

"The Picture of Dorian Gray" in Lippincott's Monthly Magazine (June 20, 1890)

Original Publisher

Lippincott's Monthly Magazine

Created by

Oscar Wilde
Synopsis
Dorian Gray was a very handsome young Englishman who had his image painted by a man named Basil Hallward. Under the influence of an intellectual named Lord Henry Wotton, Dorian decides that the only thing that is important in life is beauty. Dorian wishes that the painting of him would grow old in his place, so that he could experience all the joys of youth and beauty forever.
As he begins to live an increasingly sinful life, the painting of him starts to become twisted and disfigured. Dorian's wish is also granted in that his image ages, while he himself, continues to look young, even after many, many years. When Basil, the artist, arrives to investigate the rumors of Dorian's debauchery and evil deeds, Dorian shows him the painting and then, blaming Basil, murders him.
Dorian makes a number of enemies, and eventually, wishing to absolve himself of his sins, he stabs the painting. His body is later found, stabbed and withered to an unrecognizable husk, but the painting has reverted to the image of Dorian as a handsome young man.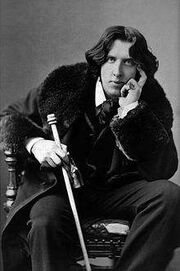 See Also
Community content is available under
CC-BY-SA
unless otherwise noted.