Dr. Mystery



Real Name

Prince Rama Rundjee

First Appearance

"Docteur Mystère" in Les Voyages Excentriques #7 (1900)

Original Publisher

Created by

Paul d'Ivoi (as Paul Deleutre)
Origin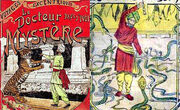 After his family was massacred by the traitorous Arkabad, Dr. Mystery sought his revenge. He traveled the world, fighting evil, especially in Paris, where he met the young orphan, Cigale, who gave him the nickname, Dr. Mystery. Eventually he returns to India, a master of science, wielding amazing technology. He is accompanied by his new fiancée Na-Indra and the young Parisian Cigale.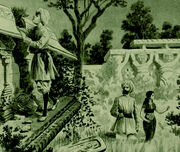 Dr. Mystery travels in the "Electric Hotel," a large, amphibious vehicle capable of traveling under water and over land. He also carried "cyanide pistols." He seems to have a degree of mastery over science and mysticism.
Community content is available under
CC-BY-SA
unless otherwise noted.