Express



Real Name

Mark Murphy

First Appearance

OSSH (Sept. 14, 2017)

Created by

Dustin Smith
Origin
Mark Murphy was inspired by his grandfather (Max Murphy, the Express Man) to become an alchemist. Upon his grandfather's death, Mark inherited his grandfather's super speed formula. Many had tried in the past, but none were able to recreate the effects. Mark, however, knew his grandfather well enough to decipher his alchemical code. Remembering an anecdote from his grandfather's past, Mark recreated the super speed formula and was even able to improve it. By tapping into the latent energy waves, Mark was able to adapt his body to utilize sheen energy for superior movement, without the risk of friction or fatigue his grandfather suffered.
Mark adopted the alchemical symbol for mercury and began his career as the speedster called Express.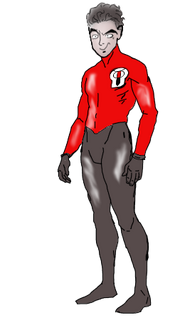 Powers and Abilities
Super speed: Express can move comfortably at speeds of 1,000 MPH. He has yet to test the upward limits of the formula but is gradually pushing himself to do so
Blur: Express can blur his physical form making him much harder to see or recognize
Brilliant Alchemist: Mark Murphy is a world class alchemist
Weaknesses
Speed formula: The speed formula is ingested in the form of pills, the duration is unknown, but Mark can usually tell when he is slowing down.
Consummate prankster: Mark, like his grandfather, enjoys a good laugh and will often joke around with friends and enemies.
Gray moral code: Express isn't above petty theft to make ends meet and has often robbed criminals as part of his "heroics"
Notes
Express is an open source Character and was created specifically for use by anyone. The only rule about using her is that your work must have this notation:
"The character of Express is available for use by anyone, with only one condition. This paragraph must be included in any publication involving Express, in order that others may use this property as they wish. All rights reversed."
While most of his adventures, as well as his various artistic interpretations, are under copyright to their respective creators (including her first appearance) the character and idea are free for anyone and everyone to use.
Community content is available under
CC-BY-SA
unless otherwise noted.