Golliwogg



Real Name

Golliwogg

First Appearance

The Adventures of Two Dutch Dolls and a Golliwogg (1895)

Created by

Bertha & Florence Upton
Origin
Florence Kate Upton illustrated a children's book entitled The Adventures of Two Dutch Dolls and a Golliwogg. The 1895 book included a character named the Golliwogg, who was first described as "a horrid sight, the blackest gnome" but, who quickly turned out to be a friendly character, and is later attributed with a "kind face." A product of the blackface minstrel tradition, the Golliwogg had jet black skin; bright, red lips; and wild, woolly hair. He wore red trousers, a shirt with a stiff collar, red bow-tie, and a blue jacket with tails — all traditional minstrel attire.
Upton's book and its many sequels were extremely successful in England, largely because of the popularity of the Golliwogg. Upton did not trademark her character, and its name, spelled "golliwog", became the generic name for dolls and images of a similar type. The golliwog doll became a popular children's toy throughout most of the 20th century, and was incorporated into many aspects of British commerce and culture. Upton's Golliwogg was jovial, friendly and gallant but, some later golliwogs were sinister or menacing characters.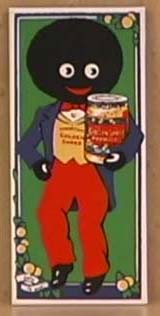 Notes
Given the character's stereotypical look and name, the character would need to be updated for any type of use today.
See Also
Community content is available under
CC-BY-SA
unless otherwise noted.