Green Giant



Real Name

Brentwood

First Appearance

Green Giant #1 (1940)

Original Publisher

Pelican

Created by

George Kapitan & Harry Sahle
Origin
Virtually nothing is known about the superhero known as The Green Giant. His surname is Brentwood and he works at a brokerage firm, but further details were never revealed.
Powers and Abilities
His powers come from his belt, which include growing to tremendous size and flight. He also appears to be bullet-proof and super strong.
Public Domain Appearances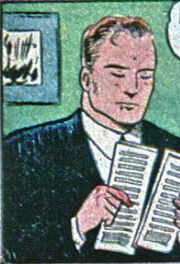 Notes
According to the Overstreet Comic Book Price Guide (2000), Green Giant Comics #1 was an experiment to determine if the company could profitably manufacture and distribute comics with their otherwise idle printing presses. The Moreau Publishing company believes the book was never released to news stands.
Although wearing long pants on the cover, the character appears in shorts throughout the story.
See Also