Gulliver



Real Name

Lemuel Gulliver

First Appearance

Travels into Several Remote Nations of the World, in Four Parts. By Lemuel Gulliver, First a Surgeon, and then a Captain of Several Ships (novel, 1726)

Original Publisher

Benjamin Motte

Created by

Jonathan Swift
Origin
Around 1661, Gulliver was born in Nottinghamshire, where his father had a small estate. He married Miss Mary Burton (c. 1688), daughter of a London hosier and became a surgeon. He enjoyed traveling and after a storm in 1699, he washed up on the shores of Lilliput, an island inhabited by tiny people. Later, he found his way to Brobdingnag, an island inhabited by giants. He continued to have adventures, traveling to wonderful lands, until at least 1715. Unofficial sequels continue Lemuel's adventures and those of his son, John Gulliver.
Gulliver knew many languages including Dutch, Latin, French, Spanish, Italian, Portuguese and Lingua Franca. He was also able to pick up the languages of the strange lands he visited fairly quickly. He was otherwise fairly average in his abilities but was presumably knowledgeable about sailing and medical practices.
Public Domain Literary Appearances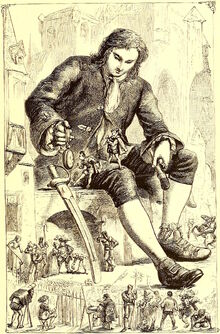 Memoirs of the Court of Lilliput (1727)
Le Nouveau Gulliver ou Voyages de Jean Gulliver, fils du capitaine Lemuel Gulliver (1730) by Abbé Pierre Desfontaines
"About Some Queer Little People," by Donald Grant Mitchell, St. Nicholas, vol. 1, no. 5, Mar. 1874. (Internet Archive)
Utazás Faremidóba (1916) by Frigyes Karinthy
Capillária (1921) by Frigyes Karinthy
Public Domain Film Appearances
Gulliver's Travels (1939)
Public Domain Comic Appearances
Target Comics vol. 3 #10-12, vol. 4 #1-3 [34-39]: Adaptation of parts I-II of the book.
Treasure Chest of Fun and Facts Vol. 3 #11-13: Adaptation of Part I of the book.
Funny Book #2: Adaptation of Part II of the book.
Kid Eternity #8: Gulliver is summoned to the 20th century by Kid Eternity.
Dell Junior Treasury #3
A Treasury of Horses: Account of Gulliver's encounter with the Houyhnhnm.
Notes
Nyoka the Jungle Girl (1945 series) #46: In the 20th century, John Gulliver explores rumors of a jungle island inhabited by giants and pygmies, believing it may be the island described by the "original" Gulliver.
See Also
Community content is available under
CC-BY-SA
unless otherwise noted.