Jurassic World: Dominion Dominates Fandom Wikis - The Loop
Play Sound
Jack the Ripper



Real Name

Unknown

Years Active

1888
Historical Background
Jack the Ripper is one of the more notorious killers in history, largely due to the fact that he was never caught or identified, leaving an air of mystery about him. Five murders committed in the Whitechapel area of London in 1888 are generally attributed to him.[1]. His victims were women working as prostitutes.
In addition to slashing throats, he also removed organs and mutilated the faces, abdomens and genitalia of his victims. One letter, left for the authorities, marked "From Hell," was accompanied by half a kidney. The author of the letter, claimed the kidney was from one of the Ripper's victims (who was, in fact, missing a kidney), and that he had eaten the other half.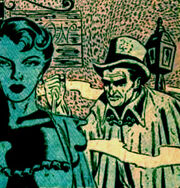 Fiction
In public domain detective fiction, Jack the Ripper was depicted being captured by a number of famous detectives including Sherlock Holmes, Ethel King, Sâr Dubnotal, Allan Dickson and Frank Allan. In comics, the Ripper is sometimes depicted as having ended his killing spree after being transported to the future. In these comics, he is usually depicted facing heroes such as the Blue Beetle.
Public Domain Comic Appearances
References
Public Domain Literary Appearances
The Curse Upon Mitre Square (1888) by John Francis Brewer
Uppskäraren (The Ripper, 1892) by Adolf Paul
Die Büchse der Pandora (Pandora's Box, 1904) by Frank Wedekind
The Lodger (1911) by Belloc Lowndes
L'Homme au complet gris (The Man in the Gray Flannel Suit, 1912) by Arnould Galopin: Sherlock Holmes recruits Australian detective Allan Dickson to travel to London and capture Jack the Ripper, a sailor on the ship Arabella.
"Jack l'Éventreur, le tueur de femmes" (Jack the Ripper, Killer of Women) in *Ethel King #3 (1912) by Jean Petithuguenin
"Die Blutsbrüder von Whitechapel" (The Blood Brothers of Whitechapel) in Frank Allan, der Rächer der Enterbten #29 (1921)
See Also