Jinx



Real Name

Darrel Creig

First Appearance

Daredevil Comics #5 (1941)

Original Publisher

Lev Gleason

Created by

Bernard Klein and Dick Wood
Origin
Darrel Creig was 13 years old when his father died, leaving him the heir to the family's steel fortune. His uncle, who longed to get his hands on the fortune for quite some time, decided that he would not let his nephew get in his way and threw Darrel off the top of Statue of Liberty. Luckily for the young boy, 13 saw him fall and caught him before he could hit the ground. The older hero took Jinx to his apartment. Darrel wanted to help 13 bring his uncle to justice, and the hero connected, giving him a costume and dubbing him Jinx.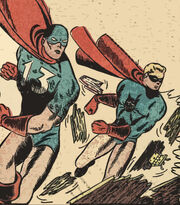 After Darrel's uncle was brought to justice, Darrel continued to assist 13 as Jinx. Judging by the fact that Darrel lived with Harold Higgins from that point on, it can be assumed that, with no biological relatives left, 13 became his guardian. Darrel's steel fortune was rarely, if ever, brought up again (though it may be what paid the duo's bills, since 13 didn't seem to have any job in his civilian identity).
Public Domain Appearances
See Also
Community content is available under
CC-BY-SA
unless otherwise noted.