Judy of the Jungle



Real Name

Judy

First Appearance

Exciting Comics #55 (May 1947)

Original Publisher

Nedor

Created by

Ralph Mayo
Origin
Judy of the Jungle was raised by her naturalist father in the isolation of the African jungles. However when her father encountered a band of international criminals, he was shot and killed. When Judy found her dying father, he told her to "Live for revenge, Judy...and remember...trust no man!"
However while pursuing her father's murderers, Judy's life was saved by Pistol Roberts, a "special government criminal agent." Roberts and Judy fall in love, but Judy did not to trust any other human other than her boyfriend keeping her father's dying wish. Her animal friends included Kala, the black panther, Chan, the monkey, and Tanda, the elephant.
In her adventures, Judy encountered a Lost City of Pharaonic cultists, treasure-hunters, the U'bongo tribe, the Leopard Queen, and more.
Golden Age Appearances
Notes
She was created by Nedor to be their version of popular jungle girl, Sheena.
The Nedor comics were renewed by Popular Library, which was eventually bought out by Fawcett Books. When Fawcett went out of business, Popular Library was sold to Warner Bros. A number of different publishers, however, are currently/have been using these characters without any lawsuits from Warner Bros., so any action over them is (probably) unlikely. They are still, however, "use at your own risk" characters.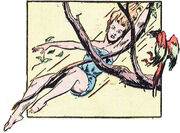 See Also