"Perhaps I am the only person in the world today who is a master of the art of Black Magic. That is why I am called Lady Satan."
Lady Satan



Real Name

Unknown

First Appearance

Dynamic Comics #2 (December 1941)

Original Publisher

Harry 'A' Chesler

Created by

George Tuska
Origin
Lady Satan and her fiancé were victims of a German bombing while on a ship. It sunk, and her fiancé died. Thus, Lady Satan took an oath to be a foe of the Nazis. Donning a mask and waltzing about in an evening dress, Lady Satan traveled unnoticed through the streets of Nazi occupied France as she fought the German invaders.
In her third appearance, she was a sorceress who fought against the occult instead of Nazis. No explanation for the change in methods or powers was given.
Powers and Abilities
As a spy, Lady Satan used her charm and good looks to gain information as well as stealth and weapons (conventional and a few gimicks) when it is necessary.
As a sorceress, she used powerful magic that allowed her to do just about anything. She also wore a ring in the shape of a serpent which could release gasses derived from "dragon scales" that allowed her to "unveil the shadow world." This sorceress version fought supernatural foes.
Public Domain Appearances
Dynamic Comics #2-3
Red Seal Comics #17-18, 20-21
Authentic Police Cases #1-2 (re-prints)
Bulls Eye Comics #11 (re-print)
Notes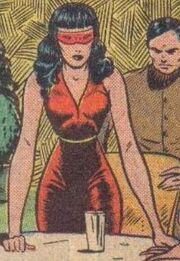 See Also
Community content is available under
CC-BY-SA
unless otherwise noted.