Queen Lulea of the Fairies



Real Name

Lulea

First Appearance

The Life and Adventures of Santa Claus (1902)

Original Publisher

Bowen-Merrill

Created by

L. Frank Baum
Queen Lulea is the queen of the Fairies under the command of Ak the Master Woodsman of the World. She lives in the Forest of Burzee and is a friend of Santa Claus.
The Queen was part of the Council of Immortals that bestowed upon Santa Claus the Mantle of Immortality.
She and her subjects created the Magic Cloak during an evening when they became bored with dancing in the moonlight. She later appeared in Nole to take back the Cloak from Princess Fluff.
Public Domain Appearances
Books:
The Life and Adventures on Santa Claus
Queen Zixi of Ix
Film: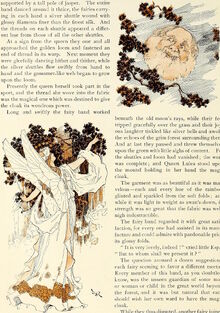 Notes
There is some confusion between her and Lurline, Queen of the Fairies and, indeed, many people consider them to be the same character. However, given Baum's rationale of giving everything and anything a King or Queen, there is no reason not to believe that there may be more than one colony of Fairies in need of a ruler.
See Also
Community content is available under
CC-BY-SA
unless otherwise noted.