Madam Satan



Real Name

Iola Satan (called "Tyra" in her first appearance)

First Appearance

(cover only) Pep Comics #15 (May 1941)

Original Publisher

MLJ

Created by

Irv Novick, Abner Sundell, and Harry Lucey
Origin
Madam Satan was a mortal woman. When she found out her fiancé's parents didn't approve of her impending marriage, she murdered them. As they were dying, they managed to tell their son who had done the deed.
Naturally, the fiancé wasn't happy to hear that, he wound up killing her. The murderess went to Hell, where she became a loyal servant to Satan himself. Her job was to seduce men into losing their souls.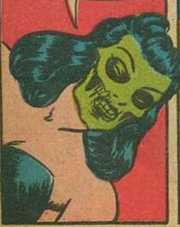 Brother Sunbeam was her arch-enemy. He tried to capture her in a bottle but, never could.
Powers and Abilities
Hypnotic power over men and the ability to kill them with a kiss.
Public Domain Appearances
Notes
Madam Satan has the dubious distinction of her feature being canceled to make room for a teen humor strip starring a certain Archie Andrews. Being such a dark character, she is one of the few Golden Age characters Archie Comics didn't acknowledge until 2014 when she returned in The Chilling Adventures of Sabrina.
Though most sites state her real name was "Tyra," this only appeared in her first appearance. In her second (and every appearance after), she was "Iola."

Most sites also state her form of address switched back and forth between "Madam" and "Madame" however, the latter was never used.
See Also