Mojo



Real Name

Unknown

First Appearance

Fighting Yank #9 (August 1944)

Original Publisher

Nedor

Created by

Unknown
Origin
The Japanese come up with a way to shrink soldiers temporarily to the size of insects and use this to send over squads of soldiers and saboteurs. The leader of this force is Mojo. Mojo is particularly beast-like in his features complete with egg shaped head and fangs. However, he and the invading force are stopped by the Fighting Yank.
Golden Age Appearances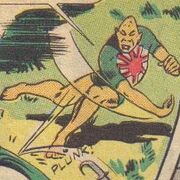 Notes
The Nedor comics were renewed by Popular Library, which was eventually bought out by Fawcett Books. When Fawcett went out of business, Popular Library was sold to Warner Bros. A number of different publishers, however, are currently/have been using these characters without any lawsuits from Warner Bros., so any action over them is (probably) unlikely. They are still, however, "use at your own risk" characters.