Monsieur L'Epee



Real Name

Andre L'Epee

First Appearance

Hi-Lite Comics #1 (Fall 1945 )

Original Publisher

E.R. Ross

Created by

Bob Lubbers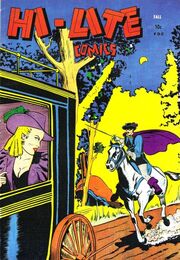 Origin
During the reign of Henry IV of France, Andre was the leader of the Royal Guard who was not much respected by both the public and the nobles. Andre was, however, trusted by the King.
When on special missions for the King, Andre became the masked Monsieur L'Epee, a demon swordsman not above using violence to get the information he needed. In his sole appearance, Monsieur L'Epee dealt with a conspiracy against the throne. The conspirators were going to plant false papers, but Monsieur L'Epee provoked a duel with the head conspirator ending the treat.
Public Domain Appearances
See Also
Community content is available under
CC-BY-SA
unless otherwise noted.