The Mouse



Real Name

Mouse

First Appearance

Alice's Adventures in Wonderland (1865)

Original Publisher

Macmillan

Created by

Charles Lutwidge Dodgson (as "Lewis Carroll")
Origin
The Mouse is a fictional character in Alice's Adventures in Wonderland by Lewis Carroll. He appears in Chapter II "The Pool of Tears" and Chapter III "A Caucus-Race and a Long Tale."
Alice, the eponymous heroine in the book, first talks to the mouse when she is floating in a pool of her own tears, having shrunk in size:
"O Mouse, do you know the way out of this pool? I am very tired of swimming about here, O Mouse!'" (Alice thought this must be the right way of speaking to a mouse: she had never done such a thing before, but she remembered having seen in her brother's Latin Grammar, 'A mouse—of a mouse—to a mouse—a mouse—O mouse!' The Mouse looked at her rather inquisitively, and seemed to her to wink with one of its little eyes, but it said nothing.
With no response from the mouse, Alice fears that it may not speak English and attempts to speak French. Upon mentioning the French word for cat, chatte, the mouse panics. This leads to a discussion about cats and dogs, culminating in the mouse telling Alice his history.
When Alice hears the mouse's "long and sad tale", she is watching his tail. So, she imagines the tale in its shape: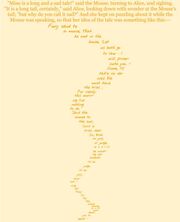 Public Domain Appearances
Book:
Alice's Adventures in Wonderland
Film:
Alice in Wonderland (1915)
Notes
The character is frequently confused with the Dormouse but, the two are, in fact, separate characters.
While the original character is in public domain, the version of the character used by Disney and other later adaptations published after 1923 are NOT in the public domain.
See Also
Community content is available under
CC-BY-SA
unless otherwise noted.