Neuroptera

Image is © Grant and used with permission.

Real Name

Drew Parker

First Appearance

The 30 Characters Challenge Facebook Page (June 2, 2013)

Created by

Carter-Ethan Rankin
Origin
Drew Parker was a cocaine addict going nowhere but down. One night, while tossing and turning and trying to sleep after a drug-filled evening, he asked for help. He didn't know who he was asking, he just knew his life needed a change.
Well, someone answered his prayer for the next morning he awoke from a coccoon completely metamorphosized into Neuroptera and now uses his newfound abilities to fight the war on drugs!
Notes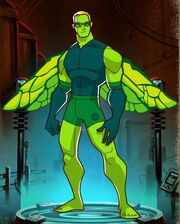 Neuroptera is an open source character created specifically for use by anyone. Feel free to use it any way you wish; author citations are not necessary.
In 2013, Carter-Ethan Rankin chose to create 30 new characters that he would voluntarily release into the public domain. Neuroptera was #2.
See Also
Community content is available under
CC-BY-SA
unless otherwise noted.