Old King Cole



Real Name

Cole

First Appearance

"Old King Cole" (nursery rhyme) (1700s)

Original Publisher

British Nursery Rhyme

Created by

Unknown
Origin
Old King Cole is a British nursery rhyme most likely deriving from ancient Wales. The historical identity of King Cole has been much debated and several candidates have been advanced as possibilities.
The most common modern version of the rhyme is:
Old King Cole was a merry old soul
And a merry old soul was he;
He called for his pipe, and he called for his bowl
And he called for his fiddlers three.
Every fiddler he had a fiddle,
And a very fine fiddle had he;
Oh there's none so rare, as can compare
With King Cole and his fiddlers three.
Public Domain Literary Appearances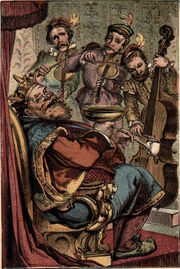 Public Domain Comic Appearances
Koko and Kola #2
Fawcett's Funny Animals #13
Four Color #41, 59, 68, 90 ,103, 126
Kid Koko #2
Public Domain Comics Inspired by Old King Cole
See Also
Community content is available under
CC-BY-SA
unless otherwise noted.