Old Lady Dynamite and the Racketeers



Real Name

"Ma" Jenkins and her adopted sons, Danny, Ted, and Pat.

First Appearance

All New Comics #2 (1943)

Original Publisher

Harvey

Created by

Unknown
Origin
Twenty-five years prior to the time to the time of the story, "Ma" Jenkins adopted three small boys, each orphaned by the same, tragic hotel fire...
Upon growing up, Danny became a football coach, Ted, a chemistry professor at Midvale College, and Pat piloted a police plane.
With "Ma" Jenkins as their leader, they pooled their talents in a relentless war against crime!
Public Domain Appearances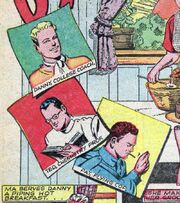 Community content is available under
CC-BY-SA
unless otherwise noted.