Patsy Pinup



Real Name

Patsy Pinup

First Appearance

Jumbo Comics #94 (Dec. 1946)

Original Publisher

Fiction House

Created by

Unknown (pseudonym used was "Swing Sista")
Origin
Patsy Pinup was a filler character whose adventures were told in 1-page stories (or "pin-ups") throughout early Fiction House publications. She was a model who would do anything from solving a crime to saving a drowning Hollywood actor... and look good while doing it!
Public Domain Appearances
Although billed as "posing in every issue of Jumbo Comics," she actually only appeared 9 times:
Jumbo Comics #94-95, 99
Fight Comics #47-51, 62
Notes
Over the course of her appearances, there were a few different artists/writers credited with her stories but, most were most likely pseudonyms and thus, could have been men (which was common at the time).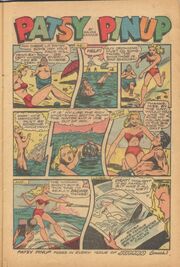 See Also