Pluto of Hades



Real Name

Pluto (Roman name) or Hades (Greek name)

Created by

The Greeks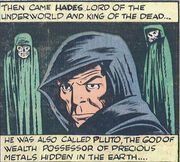 Origin
Pluto (known as Hades in Greek Mythology) was the god placed in charge of Hades, the underworld in Greco-Roman mythology. He was the brother of Jupiter (Zeus) and Neptune (Poseidon). He later abducted and then married the goddess Persephone.
Public Domain Appearances
Wham Comics #2
National Comics #32
Airboy Comics vol. 3 #4
Zip Comics #40
All Good Comics
Humdinger vol. 1 #4
Community content is available under
CC-BY-SA
unless otherwise noted.