Public Domain Super Heroes is a collaborative website about public domain characters from comic books, comic strips, films, books, pulps, mythology, television, animation, folk stories, among others. Open source characters are allowed. The wiki format allows any registered user to create any article, so we can all work together to build the site. Check out the FAQ to help you get started! Right now, we have 4,591 articles!
After Action Comics #1 gave the world Superman in 1938, there was an explosion of costumed heroes in comics. New publishers and characters sprang up everywhere. After World War II, these characters fell out of favor with readers and caused many publishers to go out of business. Those comics and their stars have since entered the public domain, enabling anyone to use those characters and classic stories any way they wish. Over the years, many publishers have taken advantage of this and so can you!
This wiki is intended to be an online encyclopedia of these characters, providing pertinent information to fans who want to learn about their history, as well as creators who may want to use them. All images and information are believed to be in the public domain. The information and images presented are intended to give a brief overview of the characters and provide a visual reference.
Rules for editing can be found here and here (and are subject to change without notice). If you have any questions, please contact the administrator, Cebr1979, via his talk page.
Enjoy.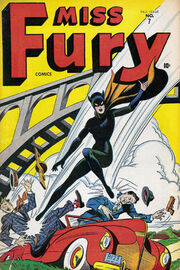 NOW FEATURING 4,591 CHARACTERS
The Top 10 Most-Viewed Character Profiles:
For a complete list of characters, click here.