The Puppeteer



Real Name

Alan Dale/Hale

First Appearance

All Top Comics (1944)

Original Publisher

Fox Features

Created by

Alec Hope
Origin
In his lone adventure as Capt. V, Alan Dale (later changed to "Hale" without explanation) battled the cunning devices of the Royal Family of Crime.
Afterwards, he took on a new super hero name from his profession, which was that of a puppet maker. He transforms into the Puppeteer whenever Raven, his talking bald eagle (whom everyone, including Raven himself, treats as a raven), plays Beethoven's Fifth Symphony on a magic pipe organ in the back of Alan's puppet shop.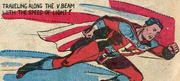 Powers and Abilities
His powers include super strength and traveling at super-speed by way of his red, white, and blue "v-beam."
Public Domain Appearances
(as "Capt. V")

All Top Comics
The Book of Comics (cover only)

(as "The Puppeteer")

Blue Beetle #46
All Good Comics #1
All Your Comics
All Great Comics vol. 2
Rocket Kelly #2
Book of All Comics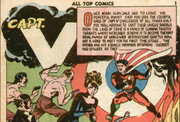 Notes
He was very similar to Fox's previous hero, V-Man.
See Also