Scoop Scanlon



Real Name

"Scoop" Scanlon

First Appearance

Terrific Comics #2 (1944)

Original Publisher

Helnit/Continental/E.C.

Created by

Nina Albright
Origin
"Sccop" Scanlon was a reporter for the Daily World-Star, who usually wound up solving crimes while investigating stories.
Scoop had a rival/potential love interest in Molly O'Moore, a reporter for the Chronicle.
Public Domain Appearances
Terrific Comics #2-6
Cat-Man Comics #27-32
Notes
DC Comics had a character with the same name that debuted in Action Comics #1, appearing until the 14th issue. Most sites claim they are one and the same but, although extremely similar (the aforementioned same name, as well as both being non-powered reporters), they are different (yet, again: extremely similar) characters.

Most sites also claim this character's first appearance was published by Holyoke however, it was published by Helnit.

Interesting to note (hence, being here in the "Notes" section...): Scoop has always been regarded as the main character yet (more often than not)... Molly was first-billed!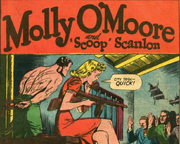 See Also