Space-Busters



Real Name

(See "Members" section)

First Appearance

Space Busters #1 (Spring 1952)

Original Publisher

Ziff-Davis

Created by

Bernie Krigstein
Origin
Space-Busters are a military force from Earth helping to defend the solar system against tyranny and injustice. In their first outing, they conquer Belzarian military forces that have taken over.
Members
Allies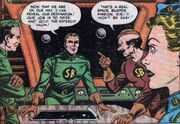 Uniforms
Early uniforms were dark purple or red shirts and leggings with light-blue gloves and green berets.
Battle gear consisted of red shirts and trunks with purple leggings. Gray helmets, with or without rank insignia, were worn with blue belts defined by either gold or yellow trim.
Officer uniforms were red shirts and leggings with dark blue belts and capes.
For new officers, dress uniforms were green with a black circle encompassing an "SB" logo in the center of the chest. Some had green or brown caps and collar pins with this same logo.
Medical officers wore blue.
Some female officers wore skirts.
Areas of Operation
Ships
Space-Busters use rocket fighter ships painted green with brownish fins. The glass over the pilot's seat is yellow.
Foes
Public Domain Appearances
See Also
Community content is available under
CC-BY-SA
unless otherwise noted.