Spark Man



Real Name

Omar Kavak

First Appearance

Sparkler Comics vol. 2 #1 (July 1940)

Original Publisher

United Features

Created by

Unknown
Origin
Omar Kavak, a classical violinist, discovered a way to absorb an electrical charge without harm and decided to use this power to fight crime. Inventing a pair of gloves which would allow him to discharge lightning through his hands, he became Sparkman. Eventually, after several superhero adventures, he enlisted in the army and became a non-costumed, super-powered soldier who fought the Japanese.
Public Domain Appearances
Sparkler Comics vol. 2 #1-45, 47, 49-57
Spark Man Comics #1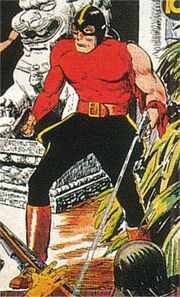 Notes
His real name was a mystery until Sparkler Comics vol. 2 #10.
See Also