Tomoe Gozen



Real Name

Tomoe Gozen

Born

1157?

Died

1247
Historical Background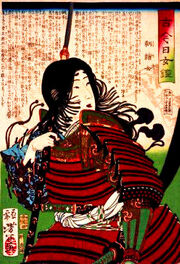 Tomoe Gozen was a female samurai who fought in the Genpei War. She was the lover of Kiso (Minamoto) Yoshinaka, a rebel who fought against the Taira clan. She was said to be extraordinarily beautiful with white skin and long hair. She was also said to be one of the finest warriors of her age, superbly skilled in archery, swordsmanship and riding unbroken horses. She was said to wear strong armor and carry an oversized sword.
See Also
Community content is available under
CC-BY-SA
unless otherwise noted.