The Torch



Real Name

Dr. Rydenham

First Appearance

Exciting Comics #36 (December 1944)

Original Publisher

Nedor

Created by

Unknown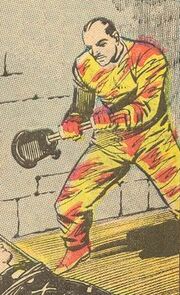 Origin
A research scientist for the Timberly Mine Company, Dr. Rydenham uncovered a fabulous Indian ruby. He sent it back via an accomplice to bury it in the empty lot next door to his house. Unfortunately, when he got back to the states, he discovered his accomplice had died in an accident and a hospital going up where the empty lot used to be. He creates a torch that can throw a flame fifty feet and in a yellow welder's outfit decorated with red flames, he reigns terror on those working on the site through sabotage and outright attacks. He's stopped by the Black Terror and Tim.
Golden Age Appearances
Notes
The Nedor comics were renewed by Popular Library, which was eventually bought out by Fawcett Books. When Fawcett went out of business, Popular Library was sold to Warner Bros. A number of different publishers, however, are currently/have been using these characters without any lawsuits from Warner Bros., so any action over them is (probably) unlikely. They are still, however, "use at your own risk" characters.
See Also