Tugboat Tessie



Real Name:

Tessie (last name unrevealed)

First Appearance:

Seven Seas Comcis #1 (1946)

Original Publisher

Leader Enterprises / Universal Phoenix Features

Created By:

Lee Stokes
Origin
Tugboat Tessie is the owner and captain of the tugboat Harbor Lady, based out of major shipping port. She is an older woman, having an grown daughter that serves as her first mate on the tug, but still well into her prime and quite strong and physically imposing. 
Tessie often finds herself having to deal with lots of unsavory characters along the waterfront. Criminals and con men litter the area like floatsom on the tide. Thankfully Tessie's strength, her mean right hook, and her skill as a tugboat captain serve her pretty well to help keep the harbor safe.
Melody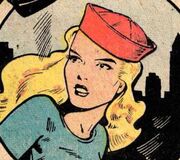 Melody is Tessie's grown daughter. She lives with her mother aboard the Harbor Lady, and serves as the first mate. She is a fairly skilled sailor, and an excellent swimmer.
Public Domain Appearances
Seven Seas Comics 1-6
Active Comics #29
Flame (1954 series) #2-3
Fantastic Adventures #17
See Also
Community content is available under
CC-BY-SA
unless otherwise noted.