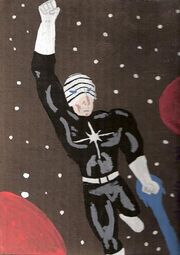 I have posted a new site notice on the
Ouworlder webcomic
pages:
"Copyright © 2008-2010 Michael Dean. This is an open-source comic. All characters and events contained in this comic are available for use by anyone, with only one condition. This paragraph must be included in any publication involving these characters, in order that others may use these properties as they wish. All rights reversed. The artwork is copyright of Michael Dean, all rights reserved."
Basically, my intent is that all the characters and events of the comic are free for anyone to use, whether they want to reference the story in a new story featuring the characters, or even if they just want to redraw the whole story on their own. I am holding on to the rights for my personal artwork, but the story, characters, events and ideas are there for anyone to draw from.
Community content is available under
CC-BY-SA
unless otherwise noted.