Venus



Real Name

Venus/Aphrodite

First Appearance

Unknown

Original Publisher

Greek/Roman Mythology

Created by

Unknown
Origin
Venus/Aphrodite was the Goddess of Love and Beauty. She is also one of the Twelve Olympians. She is the wife of Vulcan, sometimes depicted as the daughter of Jupiter and, at other times, is said to have spontaneously sprung from the remains of a Titan. She is the mother of Cupid and Aeneas. She was also the lover of Ares and Adonis.
Public Domain Appearances
Literary
Iliad by Homer (c. 760–710 BC)
Theogony by Hesiod (c. 700 BC)
Tannhäuser by Richard Wagner (1845)
Ancient Manners by Pierre Louÿs (1896)
Aphrodite by Louis de Gramont, music by Camille Erlanger (1906)
Aphrodite by Hans Liebstoeckl, music by Max von Oberleithner (1912)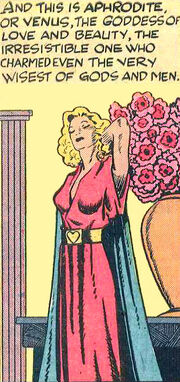 Comic Books
Mystery Men Comics #2
National Comics #32
America's Greatest Comics #5
Boy Comics #10
All Good Comics
Humdinger vol. 1 #4
See Also
Community content is available under
CC-BY-SA
unless otherwise noted.