Wild Bill Hickok



Real Name

James Butler Hickok

Born

May 27, 1837

Died

August 2, 1876
Historical Background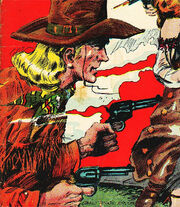 Hickock had a range of jobs during his life in the west, from stagecoach driver to actor to scout for General George A. Custer. He is most notorious for his life as a lawman and gunfighter, and for being assassinated during a poker game in the dangerous town of Deadwood.
Hickock was a highly skilled and extremely deadly gunfighter. At one point he was arrested for killing a man in a duel, but he was acquitted. He killed quite a few men in his lifetime.
Public Domain Comic Appearances
Star Ranger Funnies #v2#1
Crime Does Not Pay #22
Hit Comics #31
Atoman Comics #1
Cowboy Western Comics #17-21, 23, 25, 27, 31-34, 50-67
Desperado (1948 series) #4
Wild Bill Hickok (Avon) #1-28
Prize Comics Western #v9#1 (80)
Black Diamond Western #20
Tim Holt #28, 39
Red Ryder Comics #136
Blazing Six Guns #1
Six-Gun Heroes #6-8, 38-43, 46-54
Badmen of the West #1-2
Kit Carson #8
Jesse James #29
Wild Bill Hickok #1-5
Wild Bill Hickok and Jingles #68-75
Black Fury #1, 3-5, 10
Masked Raider #5, 10
Buster Crabbe Comics #2, 8
See Also
Community content is available under
CC-BY-SA
unless otherwise noted.