The Woman in Red



Real Name

Peggy Allen

First Appearance

Thrilling Comics #2 (Mar. 1940)

Original Publisher

Nedor

Created by

Richard E. Hughes & George Mandel
Origin
Policewoman Peggy Allen is the department's best undercover operative. In order to deflect suspicion from her undercover role, usually as a nurse or maid working at the scene of the crime, she adopts the costume of the Woman in Red. She wears a red floor-length coat, a hood, and a mask. Peggy solves each case through deduction, athletic prowess, and a willingness to brandish her pistol. In some cases, she displays scientific knowledge and gadgetry, including in one story a "tear gas fountain pen." Each story ends with Peggy debriefing the police chief, who knows of her Woman in Red disguise and praises her good work. During her career, the Woman in Red battled villains such as the Black Death and Voa.
Golden Age Appearances
America's Best Comics #1-2
Thrilling Comics #2-18, 20-22, 24-30, 34-35, 38, 46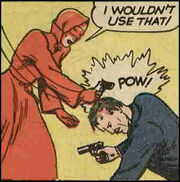 Notes
The Nedor comics were renewed by Popular Library, which was eventually bought out by Fawcett Books. When Fawcett went out of business, Popular Library was sold to Warner Bros. A number of different publishers, however, are currently/have been using these characters without any lawsuits from Warner Bros., so any action over them is (probably) unlikely. They are still, however, "use at your own risk" characters.
The Woman in Red has been identified by comics historian, Trina Robbins, as the first masked female crime fighter, with the Magician from Mars, who debuted one year prior, being the first female superheroine.
The Woman in Red is played by Kitsie Duncan in the Legacy of the Masque web series.
The Woman in Red is played by Alix Pasquet in the 2010 film, Avenging Force: The Scarab.
The Woman in Red was ranked first in the Huffington Post's list of the 10 Most Bada** Comic Book Heroines.
See Also